About us......
Artisan is run by Richard Kenward. With over thirty years of experience in large format, high fidelity photography for the art world, this is your assurance of the required knowledge and depth of experience required for this specialised work. Richard is a member of the Museums Association and has qualified as an associate member of the British Institute of Photographers.
Clients throughout the United Kingdom and overseas commission Artisan to work on a wide range and size of projects, all requiring results of an exceptional standard. Exceeding client expectations is of paramount importance to us.... always.
Our substantial investment programme brings real client benefits, but naturally, having the very best technology and facilities counts for little without a high level of skill and experience. You will find that we have the determination and commitment to achieve what you are seeking, and more.
Artisan is based near Abergavenny on the Wales borders in the UK, with excellent access to motorways, the rail network, and to Bristol and Cardiff International airports.
So that you can better judge the quality of our examples, they have been saved at a high quality setting, so some pages may take a little time to download if you are on a slow connection.
We are happy to answer all your questions or to discuss a project.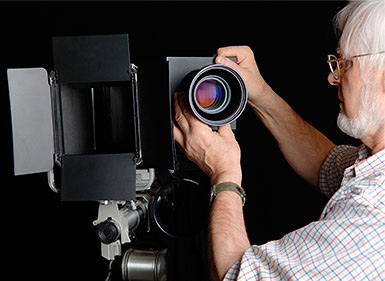 Richard Kenward setting up a large format digital camera